Dafeng believes that in order to achieve sustainable operation, an enterprise should consciously place itself as the dominant role to fulfill its social responsibilities and build an honest society, and assume its due responsibilities and obligations in the relationship between the enterprise and employees, the enterprise and the society, the enterprise and customers, and the enterprise and the government.
While creating wealth, Dafeng adheres to the development philosophy of growing together with employees, prosping together with customers and developing together with the society. We care for the elderly and care for their lives; care about the education career, support home education; be enthusiastic about public welfare undertakings and concerned about vulnerable groups.
With the continuous development of the enterprise, as a leading enterprise in the industry, Dafeng is duty-bound to assume the responsibility of promoting the development of the industry.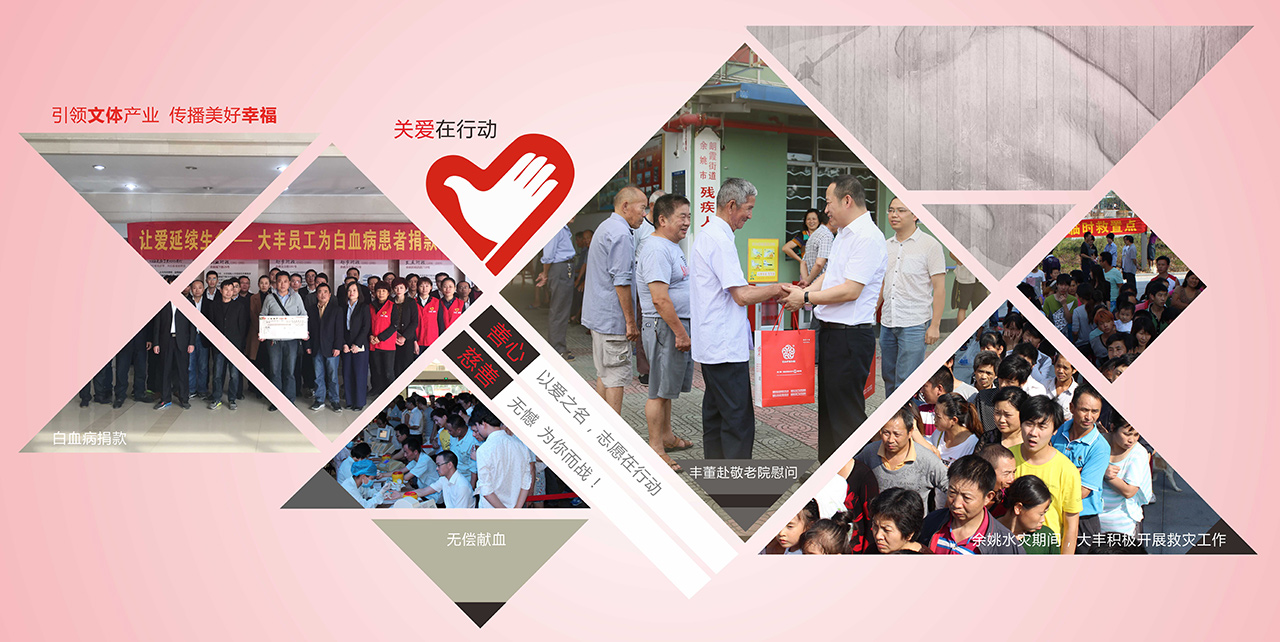 In 2016, as one of the initiators, Dafeng cooperated with outstanding enterprises in the industry chain such as HuaJian to establish the culture and sports industry alliance and hold a summit forum to earnestly strengthen the "strategic coordination, opportunity sharing, complementary advantages and project linkage", which promote the sustainable development and growth of the cultural and sports industry, and jointly usher in a better future for the industry.
Dafeng contributes to Ningbo Cultural industry Fund and promotes the development of Ningbo cultural industry.
Dafeng will stick to the belief of "being an excellent corporate citizen" and continue to carry out various forms of public welfare activities to give back to the society.
Adhering to the founder spirit of "being a sincere person, doing things in a down-to-earth manner, being good at learning and pioneering, and being charitable and filial", Dafeng has established a charity culture with "assisting the impoverished students and respecting the elderly" as the main form.
Respect the elderly - from the founder of the enterprise, Mr. Guoxun Feng, to the current chairman, Mr. Hua Feng, every chairman would visit the nursing home and makes donations every Spring Festival.
Assist the impoverished students - We set up the "Xiong Ruiying Scholarship" to provide scholarships for poor students of both good character and fine scholarship until they graduate from university.
Charity - Dafeng Charity Fund was established to make contributions to social welfare undertakings. We helped Wangmo County, Guizhou province in pair, set up "love house" and regularly organized charity activities such as "one-day donation" and blood donation without compensation.
Epidemic prevention - We have purchased over 1.5 million yuan worth of masks, protective suits, gloves, alcohol, thermos guns and other anti-epidemic materials from the whole world to support the forefront of the fight against the epidemic.
In recent years, Dafeng has donated nearly 10 million yuan. It has won the honorary title of "Ningbo Harmonious Enterprise Pioneer Unit" in 2017, "Ningbo Charity Unit of Blood Donation without compensation" and other honors, and chairman Hua Feng has won the title of "China Charity Entrepreneur of Merit" and other honors.