Dafeng independently developed by Dafeng Stacon is a new generation of stage specific motion control system. It is the only security control system in the domestic stage industry that has obtained TUV certification from international authoritative organization and conforms to sil3 standard. It is more reliable and safer than the current domestic system. It can complete all kinds of high dynamic complex motion control and real-time security monitoring. It is suitable for all kinds of theatres, theatres, studios and other special fields Control of stage machinery for performance.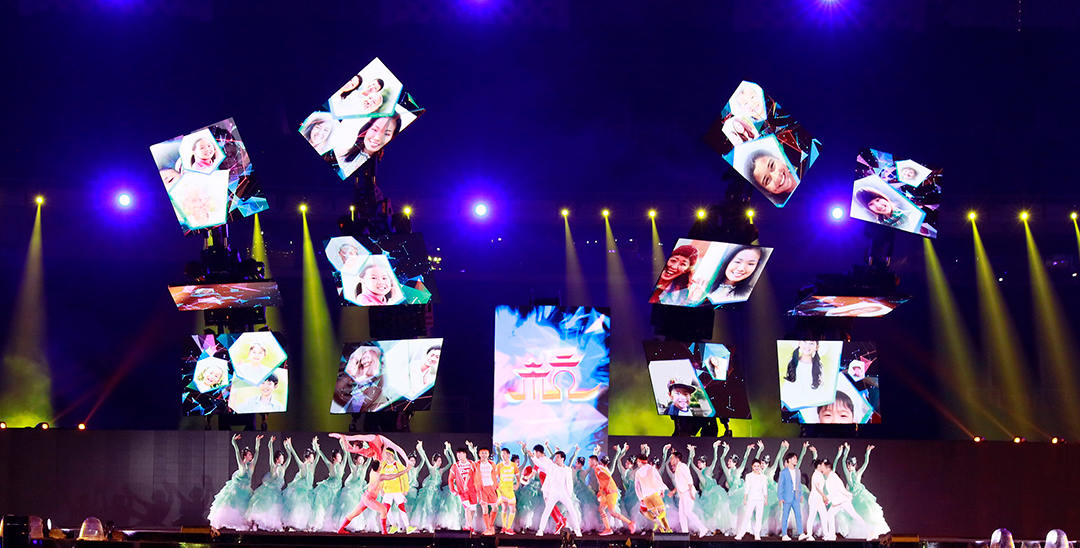 Leading control technology
The first domestic stage control system has obtained sil3 safety certification issued by international authority TUV;
The first domestic laser navigation wireless universal platform control technology;
The first domestic space trajectory aerobatics flight control system;
The first domestic performance to present the total control technology;
International advanced anti sloshing control technology for aircraft;
The world's leading stage performance automatic tracking system;
The international first 6-DOF manipulator control system.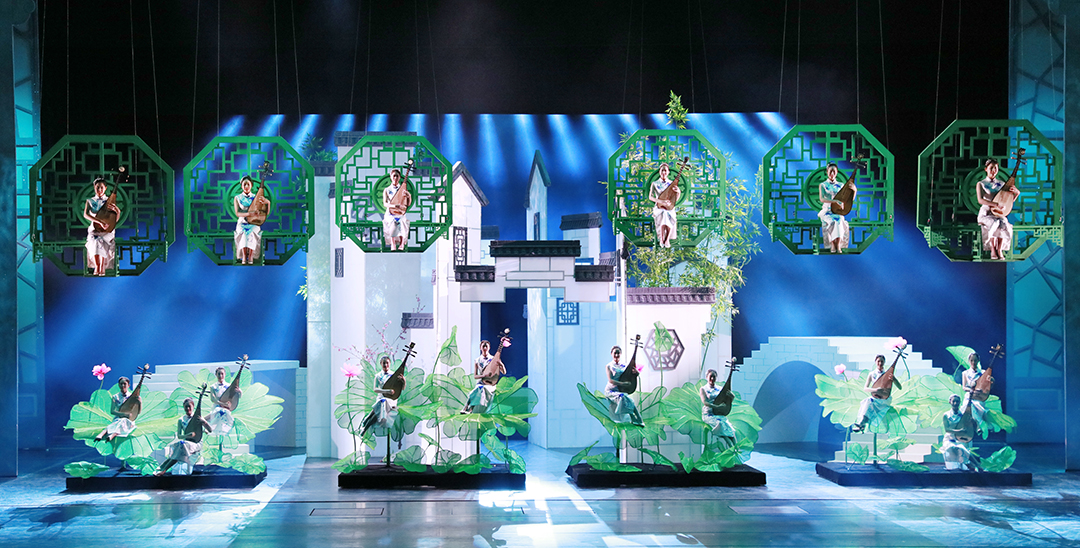 Features of intelligent system
High standard of design safety
DAFENG STACONThe following criteria are fully met: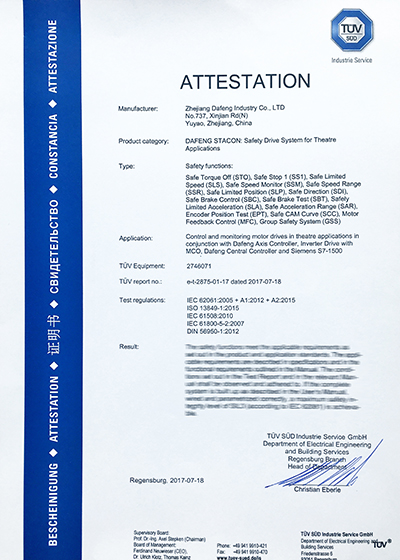 ü IEC62061
ü IEC61508
ü IEC61800
ü ISO13849
ü DIN56950
Perfect detection means
All kinds of safety and interlock signal detection, safety monitoring of movement process, holding brake detection, disconnection detection of safety circuit, and integration of various environmental detection (such as humidity, temperature, wind speed...) Through the friendly operation interface, the operator can quickly and accurately judge the state of the equipment.
Scientific process design
Based on 20 years of valuable experience of interaction and cooperation between developers and stage staff, the stage electrical cabinet (control box) layout, console and socket, emergency stop switch distribution are scientific and reasonable, meet the electrical and stage machinery process specifications, achieve scientific process design, excellent technical performance, optimized and practical configuration, safe and reliable operation and maintenance, and conform to ergonomics and modern It has the characteristics of economical and reasonable maintenance.
High grade equipment configuration
All the main control components are internationally famous brands recognized in the industry, and the selected components are well tried or proven in use.
Reasonable performance test
The acceptance index system of the whole stage equipment system provided by us is complete, and the acceptance method is perfect, targeted and operable, scientific and reasonable.
High standard specification
The design, installation, commissioning and acceptance of stage equipment shall strictly comply with relevant international, national and industrial standards, and the design data shall be standardized, standardized and complete. All kinds of safety inspection and protection functions are designed according to sil3 standard; the emergency stop unit adopts safety PLC and safety relay to ensure safe, reliable and controllable stop in case of emergency, among which SS1 and sto are used as emergency stop modes.
Advanced and reasonable solution
The stage equipment and control system provided are brand new, with advanced technology, complete performance, safety and reliability, easy operation and maintenance, which have been successfully used by many international grand theater. At the same time, the noise of the equipment meets the international standards and requirements, and meets the needs of theater performance.
Intelligent control composition
DAFENG STACON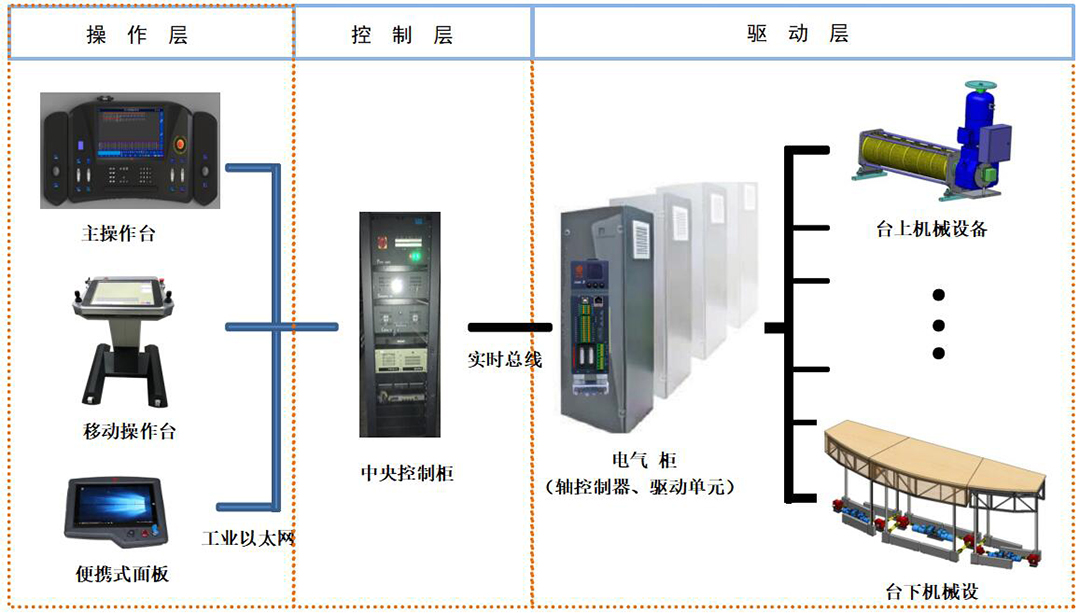 New generation stage centralized control systemDfStageV8.0
DfStage v8.0, a new generation of stage centralized control system, can be configured with software and hardware according to the actual needs of the theater. It can not only meet the requirements of stage machinery and equipment monitoring and environmental safety data detection, but also cooperate with the centralized control of multi system software modules such as machinery, lighting, audio, etc., so as to achieve the best stage performance effect. According to the requirements of customers, it can be configured and combined according to the following modules:
1) Stage mechanical equipment control module:
Real time control and accurate data monitoring of all stage machinery and equipment;
Support single scene, scene + temporary equipment, multi scene and other installation modes, which are widely used;
Support the equipment to carry out safe marshalling, fixed marshalling, free marshalling and other marshalling modes, which are flexible and changeable;
2) Environmental safety data detection module:
Real time data acquisition of smoke sensing, humidity, image and other information is carried out for performance site, back stage, control room and other places to ensure personnel safety and equipment operation safety;
3) Centralized control module of machinery, light and sound:
The centralized control software module specially used for stage machinery, lighting, audio and other systems can command and dispatch all kinds of performance control systems through the time axis, so as to obtain better performance effect;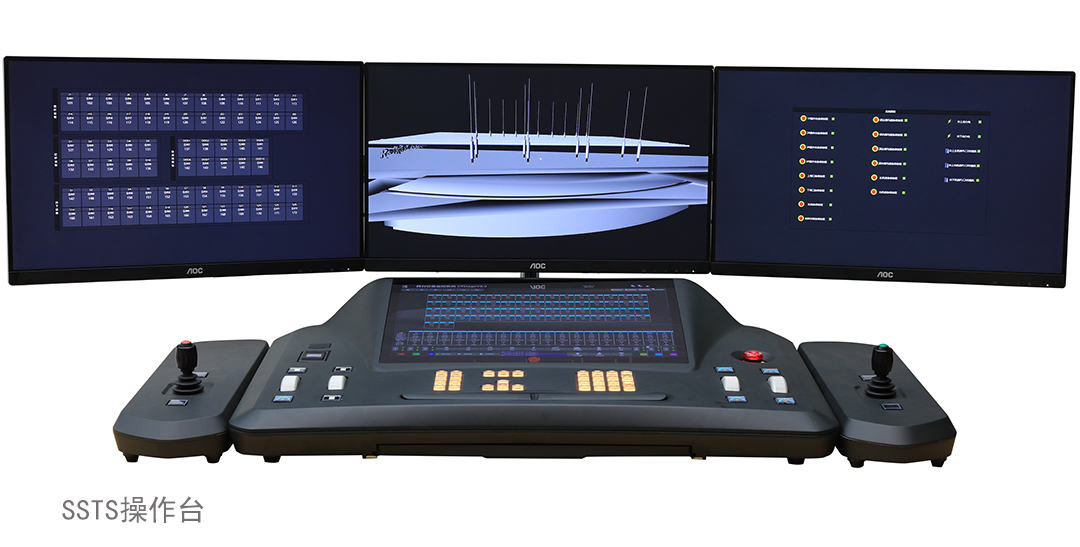 SSTs stage integrated control system console (abbreviated as SSTs console) is a new generation console specially designed for stage equipment integrated control of our company. It is suitable for theatres, shows, halls, gymnasiums and other comprehensive performance places.